Doreen Pizzey: A family treasure
Posted on 20 February 2020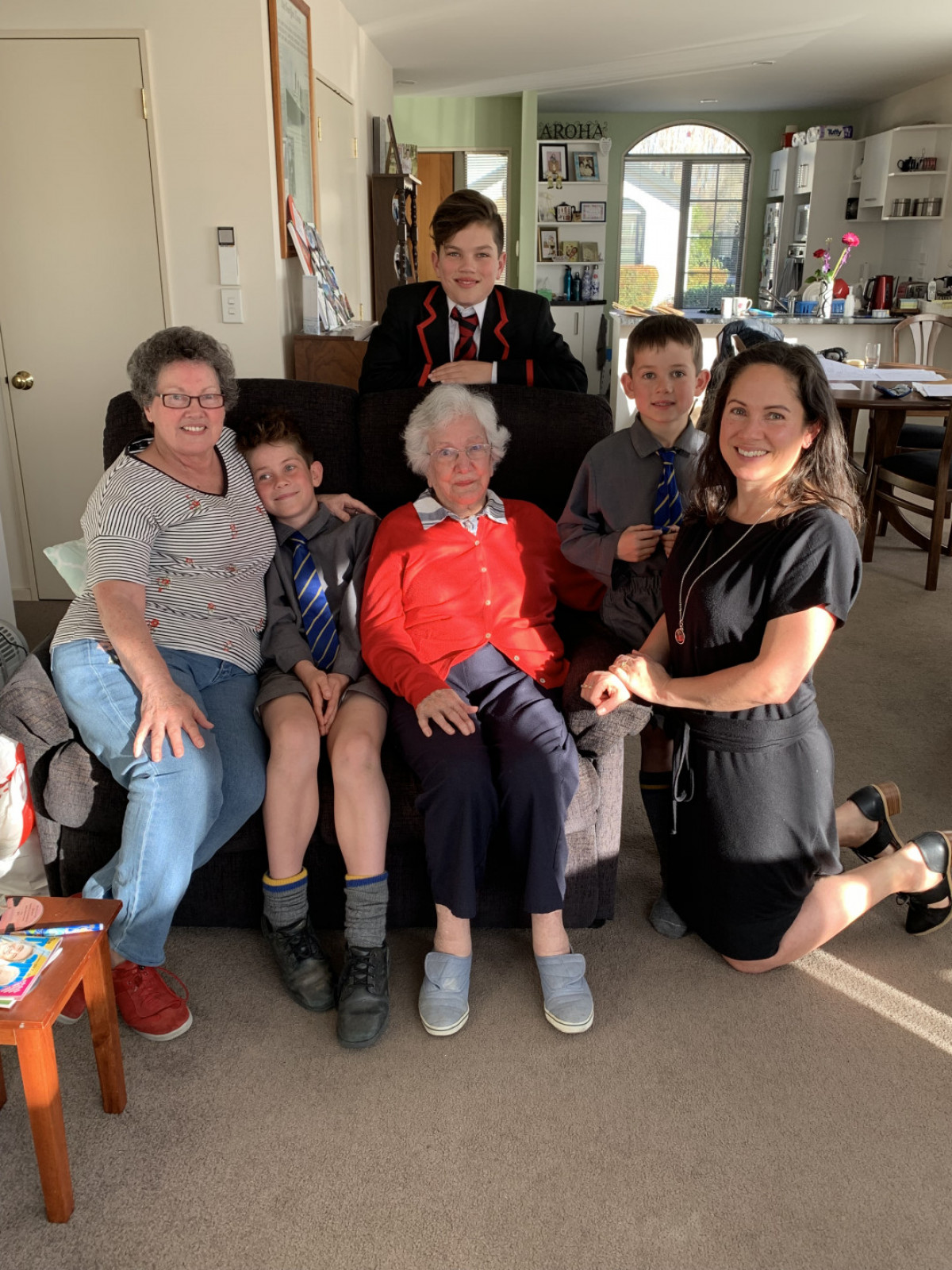 Doreen Pizzey is a much loved mum, nana, and great nana. Aged, 94, Mrs Pizzey is the eldest registered member of Ngāti Apa ki te Rā Tō. The article below is taken from an interview she did with whānau.
Doreen Pizzey has lived her life surrounded by whānau. Even today, although she can't get out and about as much as she'd like to, her family are never far away. And she always has a great story to share.
Mrs Pizzey was born in Wellington in September 1925 to Charles Tarrant and Erina Haumihi (Nell) Tarrant (nee Gage). Her maternal grandmother was Amiria Hemi, the daughter of Hiria Hemi Whiro who was the daughter of Hemi Whiro and Harata Watene. She had three older siblings – David (1920 – 1981, Joye (1922 – 1988) and Nola (1924 – 97) – and younger sister Bernice was born in 1931. Together, she says they had a lot of fun.
"I remember when we lived in Wellington (after a few years in Whanganui and a stint in New Plymouth) we had an old shack playhouse but as we grew older Mum used the planks for firewood. We kept a couple of planks and with an old set of pram wheels, we made a long trolley. We took it to the top of the hill to ride down the middle of the road – we were a harem scarum lot at times!"
Her earliest memories are of living in New Plymouth, she was about 4 years old. She recalls her mother and father played in an orchestra at night – Mum on the piano and Dad the violin. When the family relocated to Wellington, they lived just up the road from Amiria, in a two-storey home that backed on to a tennis court. "Mum was involved in quite a few fundraising projects. She ran a euchre afternoon in Ghuznee Street and we used to call in after school to go home with her."
Still, family always come first, remembers Doreen.
"We enjoyed some lovely picnics, often at a water hole out in the country and we always took a friend or two. Mum also took us swimming at Oriental Bay. We were all dressed in white pleated skirts, each having a different coloured sailor collar and white sandshoes and socks. Mum was a wonderful dressmaker.
Mrs Pizzey still remembers the beginnings of the Ngāti Poneke club – it was 1937 and she was just 12-years-old.
"The room where the (opening) function was to be held was in Lambton Quay and there were stalls around the hall. Mum couldn't get anyone to put on a Māori skirt and top and present some bouquets to a Lady Pomare and a Mrs Stott. Lady Pomare was a great friend of Gran's (Amiria Hemi) so I said I would do it for her. The presentation was on the stage but photos after were taken from the stage with everyone standing behind the chairs of the main party... my eyes were open wide so I wouldn't blink when the flashlight went off!"
In her late teens Mrs Pizzey joined sisters Nola and Joye at Prestige Hosiery Factory, and also started ushering at the St James Theatre at nights. It was there she met first husband Roger, whom she married three years later in 1947.
Dan, their first child, was born in 1948, and soon the family relocated to Christchurch where Mrs Pizzey has remained since. Daughter Carol was born at the beginning of 1950.
As well as whānau, bowling became a passion after a visit from her brother who was in the Garden City attending a national men's tournament. "I followed the teams around to various clubs for the week and decided I'd like to play. The following year I joined the Morrison Ave Bowling Club and played small bowls during the winter and decided to join the outdoor section. I was completely rapt in the game … We won a lot of tournaments and more President Fours (ladies) and one mixed. I was in winning teams in the Champs, Pairs and Fours, but never Triples. I also won the singles once."
These days, there is no time on the green, but many happy memories. And there's whānau – always lots of whānau.
"We are so grateful to have had so long with our wonderful mum, nana and great grandmother," says grand-daughter Katrina Knill, whose tamariki are regulars at the iwi's Mana Rangatahi programme.
"She has led our family with strong values, a generous heart and plenty of love."
Pictured above: Mrs Pizzey, centre, surrounded by some of her loving whānau, from left, daughter Carol Power, great grandsons Callum, 12, Dominic, 14, and Toby, 8, Knill and grand-daughter Katrina Knill.