From the Chair
Posted on 17 July 2019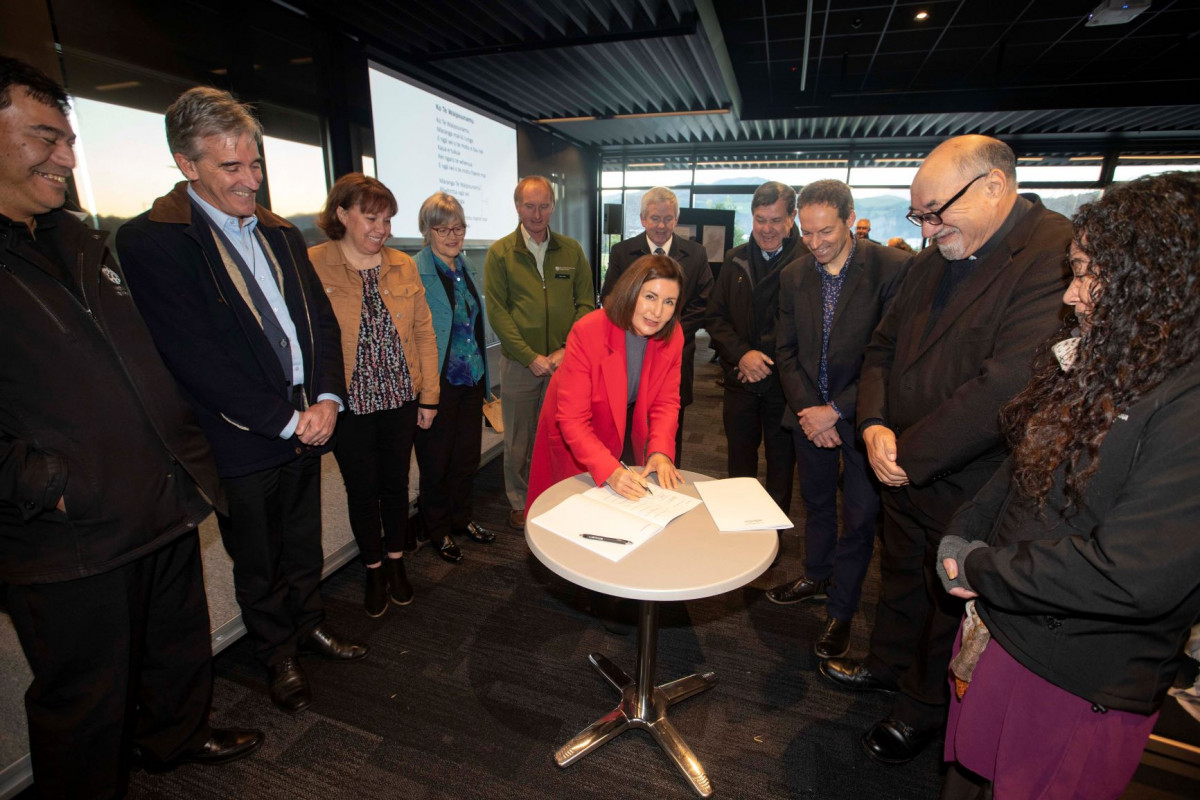 Late last month, on a crisp Friday morning, I attended a signing ceremony at the Trafalgar Centre in Nelson, for the recently finalised Kotahitanga mō te Taiao Strategy, which has been more than three years in the making and, as outlined in a previous pānui, is a collaboration between the Department of Conservation, iwi and the five councils in the wider Top of the South, (north of a line between Kaikoura and across to the West Coast).
The date, July 28, was significant as we were also able to acknowledge and celebrate Matariki – the cold clear frosty conditions provided a stunning setting to do that. The Minister of Conservation Eugenie Sage attended the signing along with iwi representatives, the mayors of Marlborough, Tasman and Nelson and council representatives from Kaikōura, Buller and the West Coast. The Alliance will now progress with the first of 11 identified projects, which is the Mt Richmond Place, a key aspect of which is to deal with wilding conifers, a significant issue in that area.
On another positive note, we held our June Trust meeting at Rotoiti (see photo on page 5) and after the Board business had been dealt with, the Marae Sub- Committee and our temporary project manager Lauren Barnsley joined us so that we could have a wider discussion around the building of our first Pahi.
Local DOC Manager John Wotherspoon also joined us for part of the hui, and showed us the two former DOC sites which we acquired as part of our settlement, being the site of the Roadman's cottage (5km out of town) and our section in town in Massey St. After discussion, we decided that we will now initiate a land-swap option with DOC, to exchange the Roadman's Cottage site, with an equivalent piece (in value) of DOC land adjacent to our section in Massey St, which would give us a much larger section at this location.
We also started the process of drafting a specification for the Pahi, and subject to the swap being agreed, our design expectations and all planning criteria being met, I can confirm that Massey St, a stone's throw from Rotoiti, will be the site for our first Pahi. Exciting times!
Until next month...
Ngā mihi
Brendon Wilson,
Chairman, Ngāti Apa ki te rā tō Trusts
Pictured above, from left to right: Kim Hippolite (Ngāti Kuia), Richard Kempthorne (Tasman Mayor), Jacqui Ngawaka (Ngāti Tama), Minister of Conservation Eugenie Sage, Roy Grosse (DOC Regional Manager), Nelson Mayor Rachel Reese (signing), Marlborough Mayor John Leggett, Brendon Wilson (Ngāti Apa ki te Rā Tō), Martin Rodd Independent Chair of the Alliance, Harvey Ruru and Cindy Batt (Te Ātiawa o te Waka-a-Māui). Photo: Tim Cuff/DOC