He hokinga mahara
Posted on 17 July 2019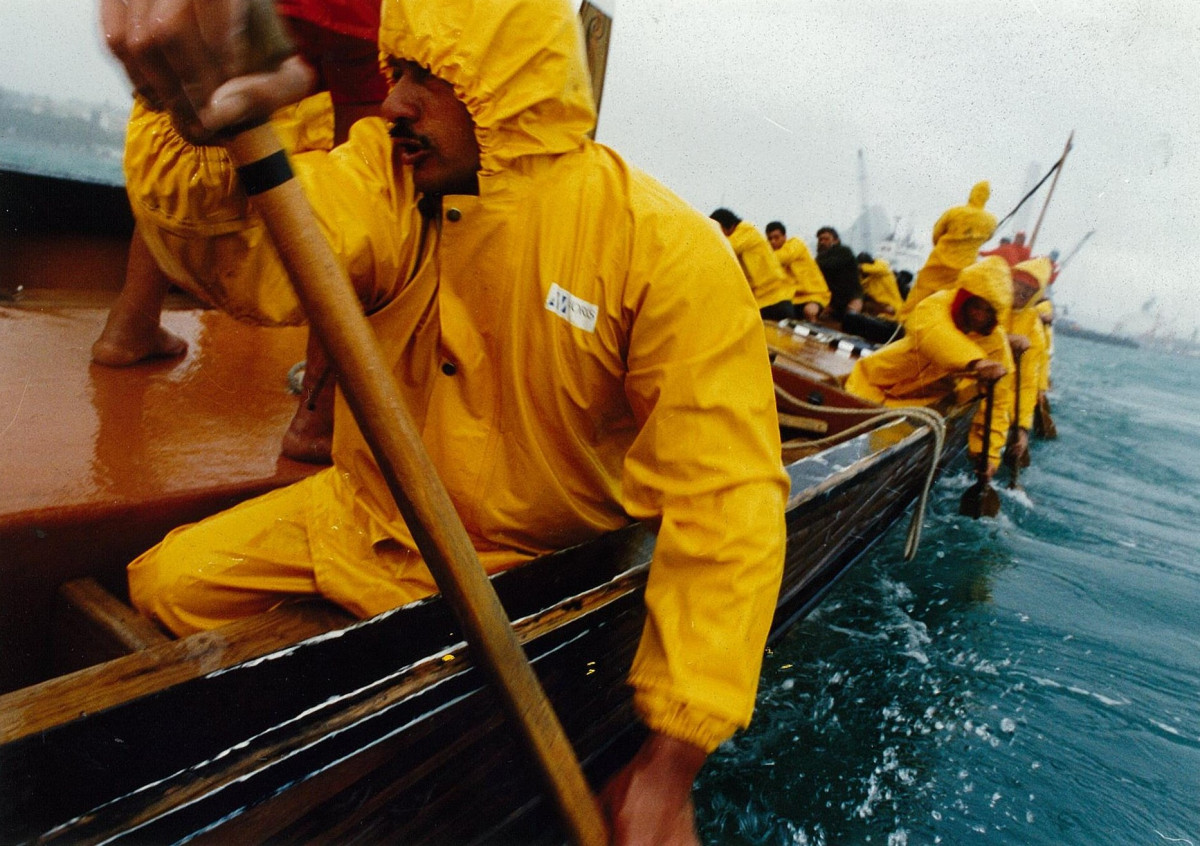 Ngāti Apa ki te Rā Tō Trustee Denis Gapper says, although short, his journey on Te Awatea Hou was unforgettable.
Parked up on the shore of Rotoiti, watching as two waka filled with Ngāti Apa whānau disappear into the distance, kaumātua Denis Gapper can't help but think about his own time as a kaihoe.
He was a younger man then; it was 1990 and up to then he'd never seen a waka ply the waters of Tōtaranui (Queen Charlotte Sound).
But Te Awatea Hou would change that. And for several years after her launch, every time he was in Picton, he would make a special trip round the bay to where Te Awatea Hou was moored just to breathe in the sight.
Built by Te Runanganui o Te Tauihu o te Waka a Māui, a confederation of the Tauihu tribes, for the 1990 150th Waitangi Day commemorations, the 20-tonne, 30-metre long waka made dozens of trips in the few years after her launch at Waikawa on January 20, 1990, involving hundreds of paddlers all up. One of those early voyages, in the autumn of 1990, was a 42-hour journey from Waikawa to Nelson via French Pass. It was that trip that Denis was lucky enough to get a place on.
"I remember some of the guys who built it – who worked on it. Jimmy Elkington, he was one of the main guys on it, Jimmy Walker, Basil Silva, Willie Luke...
"I was excited about it because, just to see one. I'd been to Waitangi and seen them up there, but to see the waka being built – I remember going down to the shed where it was being built on Old Renwick Road. I had a look down there a few times and I guess that's where my attention was captured."
After journeying to Waitangi, where it took part in celebrations alongside 21 other waka taua, Te Awatea Hou made its way south again to Waikawa. There was another journey, this time across the strait to Porirua, and then its christening as a waka tāngata, before the Waikawa to Nelson trip.
"It was time. I really wanted to go on it, and when the call went out I just knew it was time. I thought, 'Well I didn't go across Cook Strait, I probably should have so I'd go on this one'.
"I jumped in, not knowing anything. I was green as, as far as waka go."
But it was a trip he would never forget.
"We learned as we went. We learned so much, special ways to row, so you didn't splash the guy on either side of you, chants and haka. I can't remember them all now, but they kept us in time. Moving along."
With 60 guys down one side and 60 down the other, there was also a lot of whakawhanaungtanga going down.
"There were people from everywhere on that waka, that was the great thing. I was down the stern, some of the Huntleys from Picton were there with me. There were all sorts of people, but you got to know people as you went along."
The journey was far from plain sailing. Rough conditions and an incoming tide forced the paddlers to stop first at Catherine Cove before making the journey through Te Aumiti, or French Pass.
"We left Catherine Cove and went over to French Pass itself and stayed at the homestead and the shed of Bill and Ngawai Webber, that's where we slept for probably four or five hours.
"And then Jimmy came up and said we'd be leaving, it was still dark. It was bloody rough, and we were asked if we wanted to go or stay and let it calm down, but we all wanted to go. I wanted to go because I felt safe on that waka.
"So we started rowing and as we got to the pass, we raised our oars, and suddenly it was just flat and calm. The moon was on the sea, it was just magic.
"It was a spiritual experience. Knowing French Pass, and seeing how calm it was, yeah, it was just flat as, I couldn't believe it."
Once they came round the corner, conditions were rough, and several men were taken onboard the support boat.
"I stayed on, I wasn't getting off it now. I still felt safe, but I wouldn't have felt safe in those conditions in a normal boat.
"I remember as we started to approach Okiwi Bay, and Jimmy Walker said, 'Our ancestors are going to hear us going past – we'll be right', and he was right."
Further journeys were not to be. For Denis, there were increasing family and work demands and then in 1998 Te Awatea Hou met a bitter end while under tow in heavy seas off Cape Soucis. But Denis says if he had his time again he'd have said 'yes' to every voyage that came his way.
"If I could, if my health would let me, I'd be taking every opportunity to get involved with our new waka tāngata. If you get an opportunity, take it. Always take it, don't say, 'Oh well, I'll do it next time. That's what I did, I thought, 'I'll go next time', and I probably could have gone across Cook Strait.
"You just gotta do it eh. With our waka, when it's up and running, if there's an opportunity to take it down the river, take it up the lake, or down to Waikawa or Picton, and we're looking for people to be on it, just do it."
Pictured above: Reg Rene, of Blenheim, foreground, as Te Awatea Hou comes into Port Taranaki in early 1992, during a voyage following the route taken by the Tainui waka. Photo: Stuff