Q and A: Simon Karipa
Posted on 11 May 2018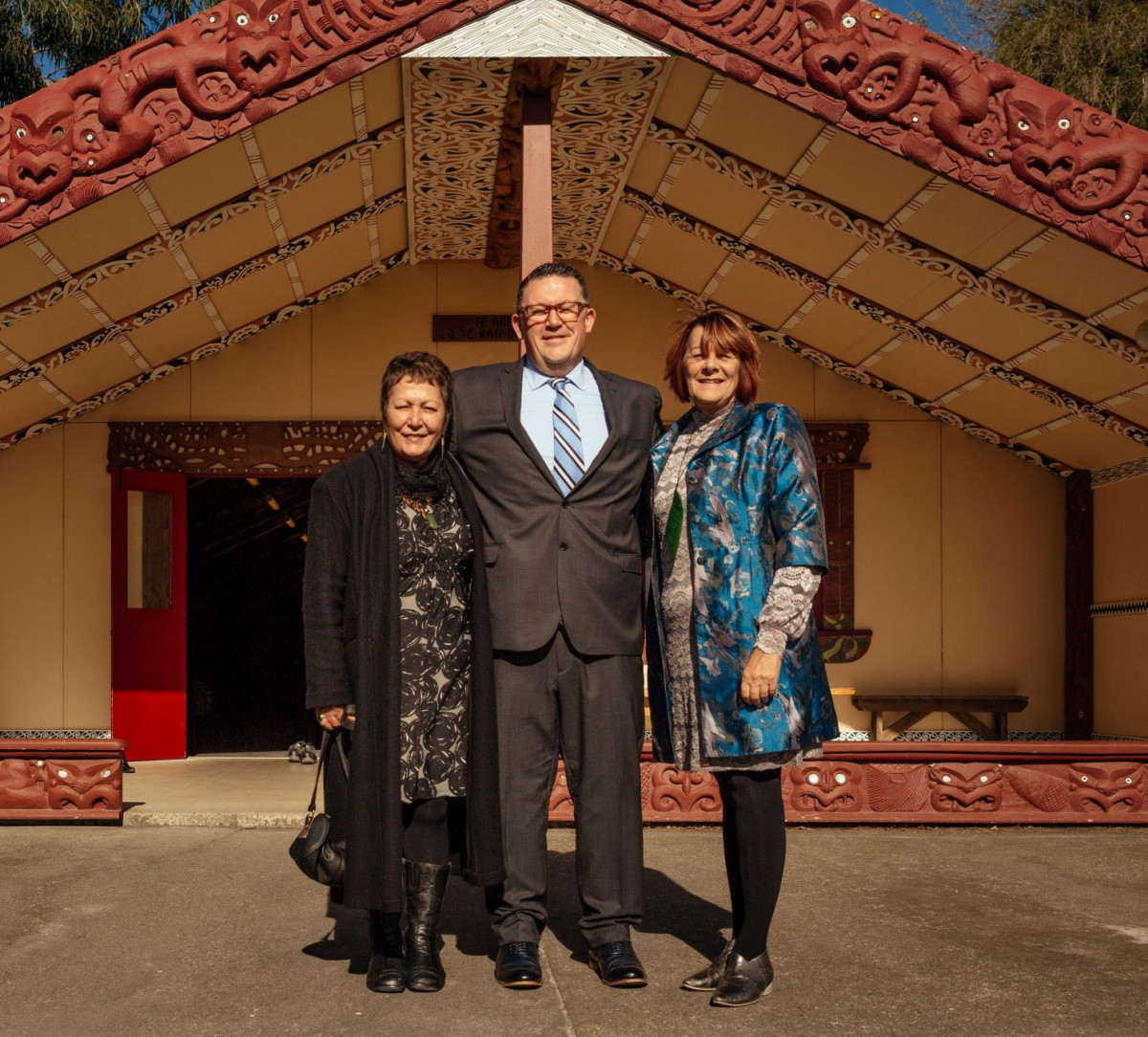 Simon Karipa was welcomed as general manager of Ngāti Apa ki te Rā Tō Trust with a pōwhiri at Omaka Marae in Blenheim earlier this month. We sat down for a kōrero.
Tell us a little about yourself.
My primary affiliations are Ngāti Apa, Te Ātihaunui a Pāpārangi and Ngāti Hauiti/Mōkai Pātea through my paternal grandmother and Ngāpuhi and Ngāti Kauwhata through my paternal grandfather, and Pākēhā through my mother. I am a descendant of Tūariki, the master of the taniwha Tutaeporoporo, which adorns the whare at Omaka Marae.
Where did you grow up?
I was born in Whanganui and grew up in rural Manawatū in a place called Glen Oroua until I was about 14 when we moved into Palmerston North city. I was a country kid that had calves at calf and lamb day and attended the A&P shows.
Tell us a little about your family.
Mum was from Whanganui and worked in the public service most of her life; Dad was born and raised in Parewānui, which lies between Bulls and the coast, and took on what then were normal roles for Māori men of his generation – driving trucks, earthmoving equipment, cranes etc. I have one younger brother, Grant, who lives in Perth. My partner Bernadette is also a lawyer who is Ngāti Raukawa ki te Tonga, Ngāti Tūwharetoa and Ngāti Maniapoto and I have a stepdaughter Millie who is 12, and an avid netballer and YouTuber.
Can you sing?
No! My mother had the musical genes in the family, Dad could play music but couldn't sing and sadly I take after him on the singing front!
Do you play any sport?
Not so much anymore—I prefer to spend my leisure time fishing and am keen on starting to do some freediving. In the past, I played senior rugby for University A and then Woodend in Canterbury, representing North Canterbury, where I had the opportunity to play against Marlborough and Nelson Bays back in the mid to late 1990s. I also played first grade men's cricket in Manawatū. I am keen on getting back to a reasonable level of fitness so can recapture some of my youth … .
What have you been up to career-wise these past few years?
Most recently I have been General Counsel for Te Ohu Kaimoana, the Māori Fisheries Trust, but I have had a number of roles over the years including working with the Māori Land Court judges and the Waitangi Tribunal, the Law Commission, working in an investment banking/stockbroking firm and managerial roles with various iwi organisations, including my own.
I also have had and continue to hold a number of governance roles including chairing Te Ngakinga o Whanganui Investment Trust and Whanganui Iwi Fisheries Limited who manage circa $90 million of assets on behalf of Whanganui iwi. I also hold a ministerial appointment to the independent Charities Registration Board and was recently appointed to Whanganui District Council Holdings Limited, which manages significant infrastructure assets in the Whanganui region. It's fair to say I like to keep busy.
What's on your 'to do' list for the first six months in Marlborough, both personally and professionally?
Professionally it is to understand fully the aspirations of the iwi by getting out and meeting people, including key people in other iwi organisations. Personally, I am pretty keen to find a good spot to unleash my kontiki fishing torpedo and to get out and do some boat fishing.
What's the best piece of advice you've been given?
Don't stick your finger in that!
Simon is pictured above with kaimahi Mahara Gilsenan, left, and Trustee Margaret Bond.