Retracing the footsteps of Apa-hāpai-taketake
Posted on 16 May 2021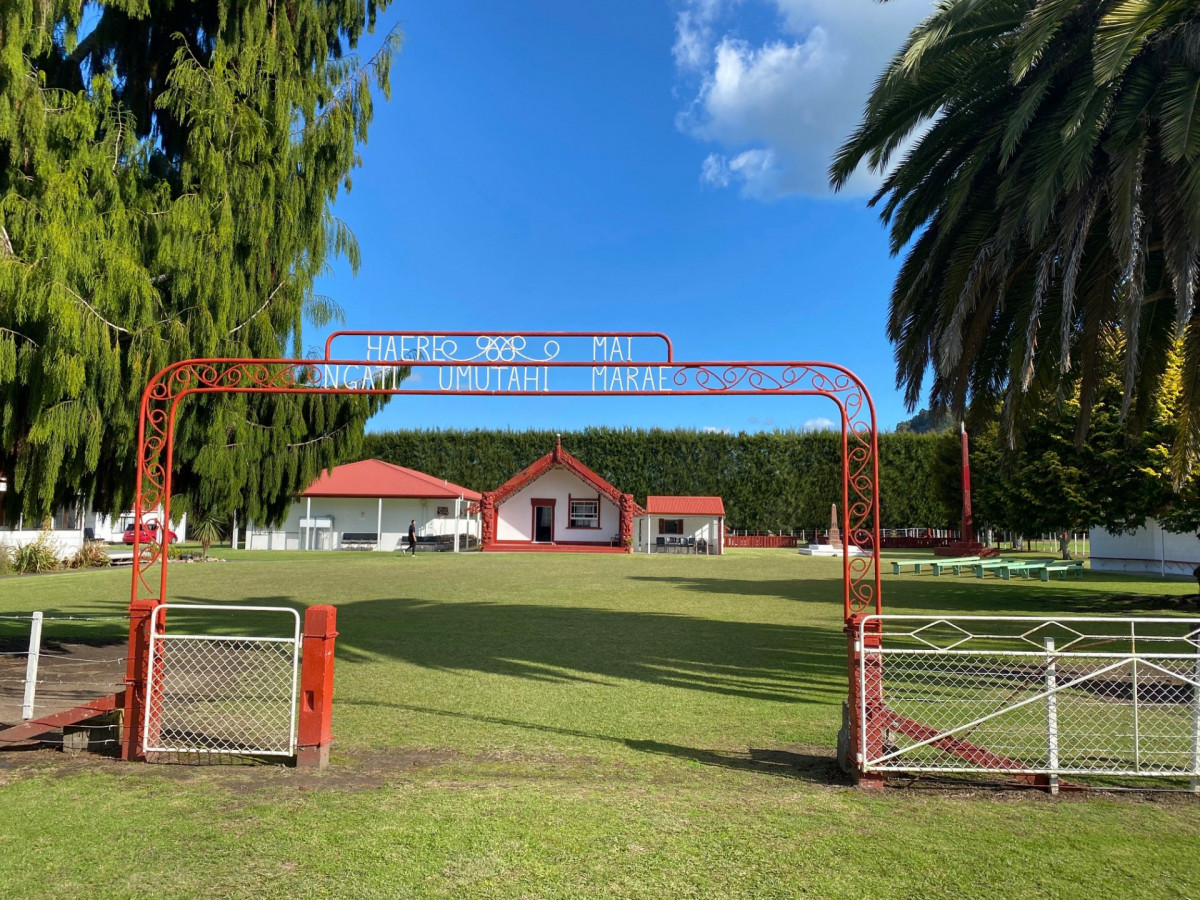 Last month, a small ope from Ngāti Apa ki te Rā Tō were privileged to join with a larger group of our North Island whanaunga from Ngā Wairiki Ngāti Apa on a hīkoi retracing the footsteps of our eponymous tipuna, Apa-hāpai-taketake, and his descendants. The journey, which took place April 21 to 28, was undertaken as part of Ngā Wairiki Ngāti Apa's rangatahi leadership programme, Maripi Tuatini, and began and ended at the Ngāti Apa iwi headquarters, Te Poho o Tuariki (formerly Turakina Māori Girls' College), in Tutaenui (Marton).
Ngāti Apa ki te Rā Tō were represented by general manager Simon Karipa, who affiliates to Ngā Wairiki Ngāti Apa, Lucas Baker, Kingston Henry, Paul Addison, Candace Hemi-Mason and Manaia Mason, who also participates in Maripi Tuatini through her Ngā Wairiki Ngāti Apa whakapapa links.
Here is Paul's report of the hīkoi.
We were warmly welcomed at Te Poho o Tuariki by our North Island Apa whanaunga, including Ngā Wairiki Ngāti Apa CEO Grant Huwyler and programme leader Katarina Hina. After the pōwhiri and kai, we were soon thrust into the first of many activities of our journey, waiata practice with the Maripi rangatahi. The session was ably led by a recent graduate from the programme, and assisted when required by the two kuia who would accompany us on the hīkoi, who ensured that the rōpū would be sharp and on point.
The next morning, after breakfast and karakia, we set out on the first leg of the journey, from Rangitīkei to Rangitaiki. After a lunch stop in Taupō, we arrived at our first stop, Rangitahi Marae in Murupara, hosted by former Māori Party president Pem Bird of Ngāti Manawa. Following the welcoming formalities, we settled into the wharenui, known as Apa-Hāpai-Taketake. It was a privilege to stay two nights within the bosom of our ancient tipuna and listen to the kōrero from Pem Bird and Rangi Anderson about Apa's arrival in Aotearoa and subsequent life in the Bay of Plenty. We learned about his whakapapa and how he had travelled on Te Arawa waka after transferring from Kurahaupō, and acted as kaitiaki of the kiore on board as a 12-year-old boy, a story depicted in the whakairo within the whare.
We heard other stories, including how Apa coveted the pet moa of Awatope that lived on Pūtauaki (Mount Edgecumbe), near present-day Kawerau, but was kicked in the leg by the moa as he tried to capture it and fell down the mountain. Following the incident, Apa was sometimes known as Apa-Koki (Apa with a limp). According to Ngāti Manawa, Apa later lived in the area around Murupara, and some of his descendants later migrated to the Rangitīkei.
After two nights at Rangitahi, we were sad to leave, and Lucas presented a beautiful pakohe taonga carved by Fayne Robinson to matua Pem. We then embarked on the next leg of the hīkoi, travelling north towards the coast, with time for a relaxing break at the Awakeri Hot Springs before continuing to our next stop, Umutahi Marae near Matatā. Here, we were welcomed in fullsome fashion by Pouroto Ngāropo of Te Arawa / Mātaatua, whose whānau has held the mana at Umutahi for generations. The impeccably manicured and maintained marae sits in the shadow of a pā site where we were told that Apa lived after his arrival in Aotearoa.
Pouroto led us on a tour of the local area, retracing ngā tapuwae of Apa-hāpai-taketake and giving his account of Apa's life. The version told by Pouroto differed in some details from that given to us by Pem Bird, but variations in ancient pūrakau between iwi are common; what is clear is that Apa was an important figure in the early history of the area.
We began near the mouth of the Tarawera River, known traditionally as Te Awa o te Atua, where Apa first landed on Te Arawa. According to Pouroto, Apa was a more senior member of the crew, and was a skilled celestial navigator. We passed Ōniao Marae, where Te Arawa was pulled up onto the land, and continued on to other sights of significance. We saw the awa where there were disagreements about who had mahinga kai rights until Apa brokered a settlement, known as Te Tatau Pounamu o Apa-Hāpai-Taketake, and the pool in the river, Te Puna Kaukau o Hinekawau me Apa-Hāpai-Taketake, where Apa and his daughter Hinekawau would swim.
We proceeded on to the place known as Tawhitinui, named after Apa's birthplace in Tahiti, where Apa's children were born, and eventually came to the base of Pūtauaki. As well as being the place where Apa was injured by Awatope's moa, it was here according to Pouroto that Apa lived and died, being interred in a cave, Te Ana o te Niho o te Kiore, near the summit.
We returned to Umutahi, deeply moved to have followed so closely in Apa's footsteps. After kai, the kōrero from Pouroto continued in the wharenui late into the night, concluding with the presentation by Lucas of another pakohe masterpiece carved by Fayne to Pouroto. We departed early the next morning with information overload but greatly enriched.
It was now Anzac Day, and we proceeded to Te Teko, taking part in a brief parade outside Te Teko War Memorial Hall, before continuing to nearby Kokohīnau Marae to participate in their annual Anzac ceremony, which has been taking place since 1950. We marched onto the marae, led by four of the Maripi rangatahi who attend the military services academy at Whanganui City College and who had drilled the rest of the rōpū during our stay at Rangitahi. Following the beautiful ceremony and kai, we were fortunate to spend time hearing kōrero from the marae kaumātua in the wharenui.
In the afternoon, we journeyed to our final location, Whakatāne, where we were hosted for two nights at Te Whare Wānanga o Awanuiārangi. After a whakatau in the noho centre with matua Abe Rangi, the rōpū was able to enjoy some relaxing free time after the busy schedule of the previous few days.
The next day, we visited the spectacular Mātaatua wharenui at Te Mānuka Tūtahi Marae, for a pōwhiri, and sound and light show telling some of the stories of the local area, before being guided by matua Abe around local sights of significance, and hearing further pūrakau, including how Wairaka rescued the Mātaatua waka from drifting out to sea while the men were away. We saw the three landmarks used by Toroa, the captain of Mātaatua, in his search for Whakatāne — Te Ana o Muriwai, Te Toka o Irakewa, and Te Wairere — before completing our tour at Kapu Te Rangi, Toi's pā overlooking Whakatāne, with its expansive views across the whole district, from Pūtauaki and Tarawera out to Moutohorā and Whakaari.
I was part of the architectural team that designed Awanuiārangi, so it was fantastic to visit again and see how the spaces are being utilised and how well the buildings still look. I gave a talk to the rangatahi about the architecture of the complex, the cultural narratives portrayed in the buildings, and architecture in general, and it was gratifying that two of the group expressed strong interest in pursuing architecture as a career.
On our last morning in Whakatāne, the rangatahi took part in a range of activities organised by Te Whare Wānanga o Awanuiārangi, while the iwi executives meet with wānanga council members, with a view to forming an ongoing relationship. During this time, quite by chance, a film crew making a documentary series about Māori architecture turned up, and so I was involved in an impromptu interview about the wānanga's design.
After lunch, during which we were fortunate to hear kōrero from Sir Hirini Moko Mead, we embarked on the return journey to Marton, where we were welcomed with a fabulous hāngi. The next morning, it was time to bid farewell and exchange gifts with Ngā Wairiki Ngāti Apa. We presented them with a pounamu taonga carved by Fayne, and received a punga emblazoned with "Apa" in return.
We left feeling blessed to have began reconnecting not only to our distant tipuna Apa-hāpai-taketake, but also to our North Island Apa whanaunga. It is to be hoped that these connections can continue to grow and flourish.