Up close: Tyrone Bird
Posted on 09 August 2019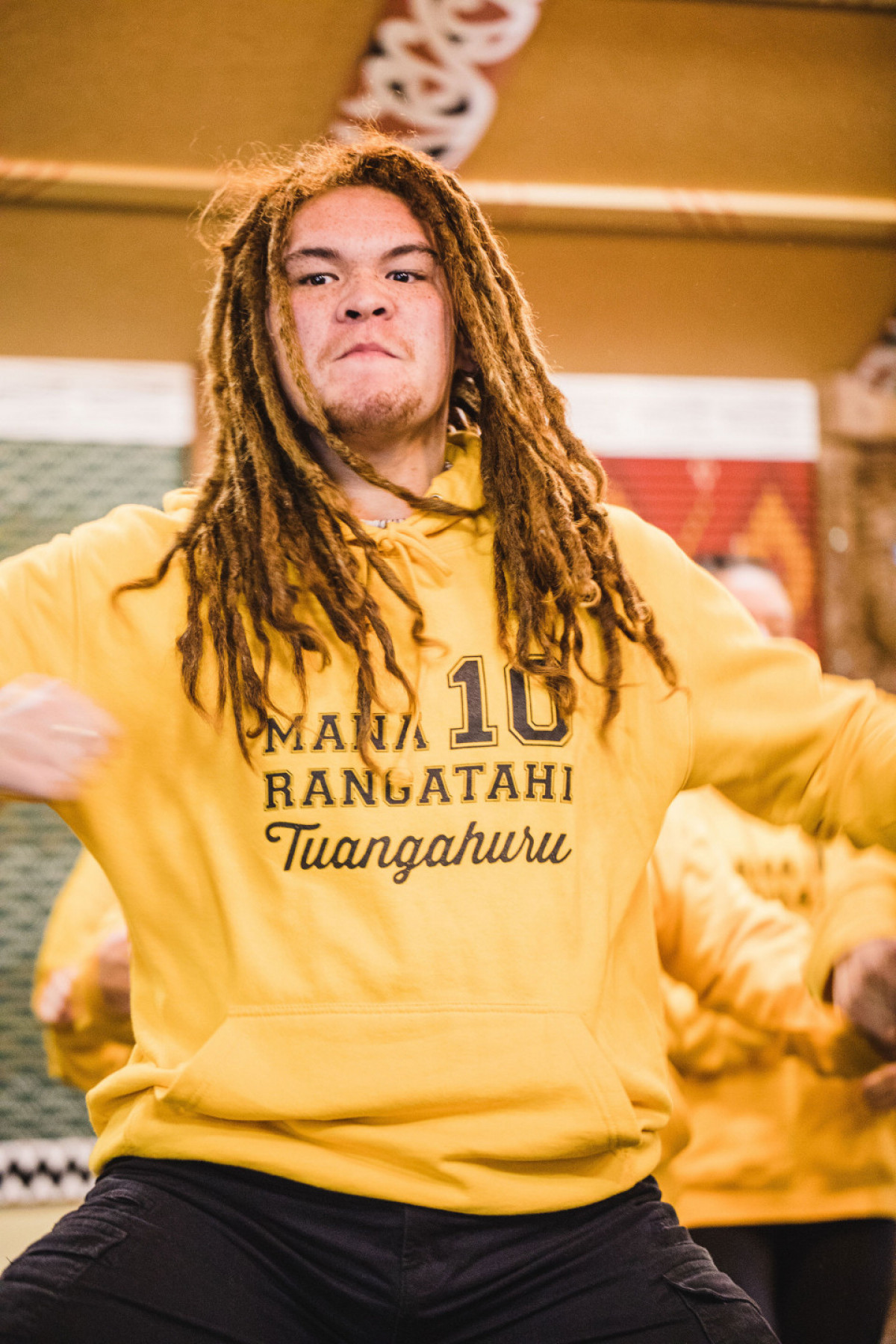 Learning the unique stories that underpin our kōrero o mua (history and traditions) is something Ngāti Apa ki te Rā Tō rangatahi Tyrone "Whero" Bird enjoyed most when he joined the 10th Mana Rangatahi wānanga.
"It was great to meet all the cuzzies and learn about some of the history and the practice of wearing tipare kawakawa over the eyes as a sign of respect to Kupe when passing the place of his historic battle," Tyrone says.
Accessing Māori stories is something Tyrone, is passionate about.
"Despite the way colonisation has changed the way we live, we still have our own language, culture and history - I would like to see more opportunities for everyone to learn about Aotearoa indigenous history."
Tyrone, who is of Ngāti Apa ki te Rā Tō, Te Aitanga ā Hauiti and Ngāti Tūwharetoa descent, was born in Te Waiharaheke (Blenheim) but grew up in Uawa (Tolaga Bay) and Turanganui a Kiwa (Gisborne).
The 17-year-old has spent his entire school life at Māori language immersion kura in Turanganui a Kiwa - first at Te Kura Kaupapa Māori o Nga Uri a Māui, before recently shifting to Te Kura Kaupapa Māori o Hawaiki Hou.
Growing up in an educational environment where only te reo Māori is spoken means Tyrone is much more comfortable speaking, writing and reading Māori than English and his academic results are making his whānau proud. Last year he achieved his NZCEA Level 1 qualifications and earned Excellence in Māori and Science.
Tyrone grew up taking part in kapa haka at a kura level and has excelled, going on to represent his region at the pinnacle event for Māori performing arts, Te Matatini. His skill and passion for kapa haka has seen him chosen as kaitātaki (leader) tāne for his region for three years, as well as being chosen as kaitātaki tāne for his kura for the past six years.
When he was about 11, he tried his hand at waka ama for the first time and was asked to join his local club. Needless to say, he took to waka ama like a duck to water and has been training and competing in waka ama competitions ever since.
He's competed in solo and team events and in sprint and long-distance categories. In season, training is relentless with up to three sessions a day in the lead-up to competitions.
But the mahi pays off - he made it into the solo sprint finals at the National Waka Ama Championships last year, and his team came third in the U-19 16km event. He also travelled to Tahiti to compete in the World Waka Ama Championships with Mareikura Waka Ama Club at the IVF Va'a World Sprint Championships.
This year his team nabbed a gold medal in the open long-distance finals at the nationals held in Auckland - he's certainly one to watch out for on the water.
After spending some time in Te Tauihu, Tyrone has come to realise that all regions are not equal when it comes to opportunities for Māori to learn their own history, stories and language. He is grateful to have had a Māori-centric upbringing.
"I reckon, if you want to learn it, you've got to chase it, you've got to go out there with an attitude to want to learn," Tyrone says.
"The whole family has to be a part of it - there's no point in sending your kids to kura kaupapa, if parents aren't going to learn it too - te reo has to be used all the time until it becomes something you can use every single day."