Kath Hemi Huia Kaimanawa Scholarship
Posted on 20 March 2020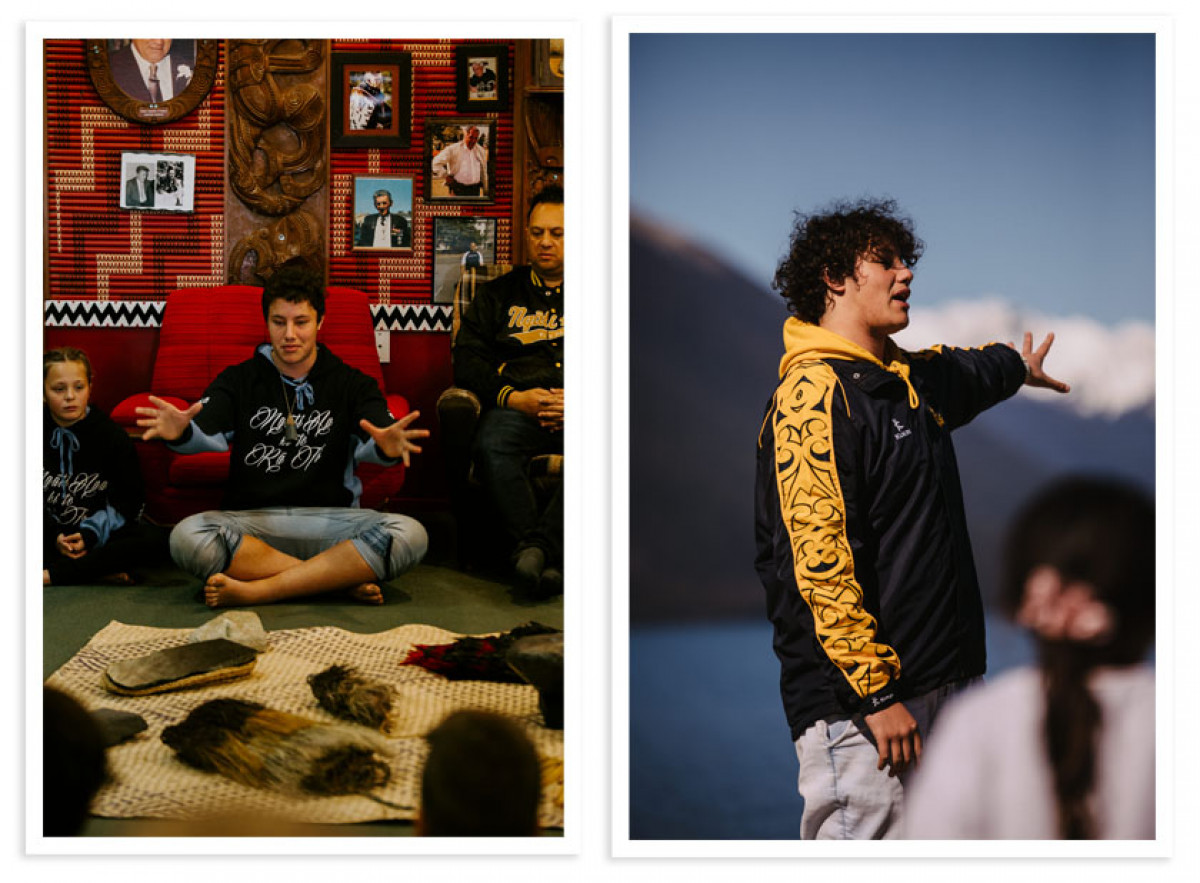 At the end of last year, the Ngāti Apa ki te Rā Tō Trusts announced a new educational scholarship to support the revitalisation of te reo Māori. The Kath Hemi Huia Kaimanawa Scholarship is named after one of the iwi's matriarchs, the late Kath Hemi QSM, to acknowledge her lifetime commitment to te reo Māori me ōna tikanga.
The Trusts are pleased to announce the inaugural recipient, Lucas Baker, the third son of Matt Baker and Lynne Owen.
Lucas has been heavily involved with the iwi over the past six years, attending every Mana Rangatahi wānanga and also participating – and playing a leading role – in many other iwi events.
We caught up with Lucas the week before he left for Te Wānanga o Raukawa.
Lucas Baker is a rangatahi any parent would be proud of. At just 17, he has drive and he has passion – especially for all things Te Ao Māori.
A Mana Rangatahi graduate, Lucas was facing his last year at Marlborough Boys' College when he got the call in January to say he had been selected as the first recipient of the Kath Hemi Huia Kaimanawa Scholarship, which was set up last year to support the revitalisation of te reo Māori among the iwi and to acknowledge the late Kath Hemi QSM for her dedication to the cause over many, many years.
For Lucas, the scholarship has been life-changing. Last week, while his mates were in class in Blenheim, the 17-year-old had his first day at Te Wānanga o Raukawa, a well-known tikanga Māori tertiary education provider based in Ōtaki. He will be studying full time for the next three years, although total immersion won't come until his second year.
"From quite a young age I've always wanted to immerse myself in the reo and it's always been something that I've been passionate about, well Te Ao Māori in general," says Lucas.
"And now I'm doing it. And I feel so lucky. Without the scholarship, I feel like eventually I would have still followed this path, but it would have definitely been delayed because of the financial strain."
Lucas, who whakapapas to Ngāti Apa ki te Rā Tō, Ngāti Kuia, Rangitāne o Wairau and also Ngāti Raukawa, was just 12-years-old when he first became involved with the iwi's flagship cultural development programme for youth.
"I still remember rocking up with me and the twins (elder brothers Tama and Riki) with our white dress shirts and black pants, and it was a very much a case of we didn't know anybody. But from the first day onwards everybody just meshed really well and we were working really well together and I haven't really looked back since."
Asked how those wānanga have contributed to his personal development, Lucas doesn't miss a beat.
"Insanely, the self-confidence I've got is a lot higher now than it was back then. Through things like standing at Manu Kōrero and through even just the presentations at the end of each wānanga, where you are put in the spotlight for what you have learnt and how far you have come, it's very much a confidence booster.
"One of the things I am really happy about is the fact that almost everywhere I go now I'll always have people there. So if I'm struggling or I'm going through a bit of a rough patch, I know that there are people there who I now have that lifelong connection with – I'm never truly alone, no matter where I am because there's always whānau and friends."
So, what's the long-term plan?
"There have always been two pathways that I've wanted to pursue. One is becoming a teacher, mostly because teachers have helped me so much on my journey. Then there's also tourism, I've had a passion for tourism for the past couple of years and I've realised that in Te Tauihu there's so much untapped potential for it, and in particular for cultural tourism. I think there is the opportunity for iwi to jump in on that.
"We (Mana Rangatahi grads) often sit round and dream about the possibilities. We're all thinking, where to after this? And it always comes back to everybody coming back to our rohe to teach. Being tutored through Ngā Toki has been an amazing opportunity and then the prospect of us going away and living our own lives and coming back as adults, still having the same bond, and you know, the same passion for what we're doing to be the next Pāpā K, to be the Trust, that's one we always talk about, being on the board when we're older and when the time is right."
Perhaps there is no need to wait, could rangatahi already have a voice at the board table?
"Yeah, it would be great. We definitely have Mana Rangatahi as a testament to what we're doing works. Having a rangatahi voice at board meetings, or as representatives at other events, would be great. Rangatira mo apōpō – you know, and as much as tomorrow, do we really have to wait till then? There are youth boards all over the country and they work."
So, while his studies will be his priority over the next three years, Lucas says he will never be set adrift from Mana Rangatahi.
"I will definitely be back and will continue my involvement. All of us always come back and that's always one things I've felt good about – it's like a safety net. We're always welcome back."